Need Help?
Please Feel Free To Contact Us. We Will Get Back To You With 1-2 Business Days.
info@example.com
(888) 123-4567
Download
Company White Paper
1.30 MB
Company Media Kit
1.22 MB
#1 Social Media Marketing Agency in Bangalore
Businesses and social media when combined can yield an outcome, promising 100% success. TapioDigital consists of a well-experienced social media marketing team whose main aim is to assist small and medium businesses in growth through social media marketing services.
Result-Driven Social Media Marketing Agency
Are you struggling to get the most out of social media marketing? Are you not able to find the right type of audience that you expected to reach out to? Then fear not. You might think of a social media space as a confusing place, but in fact, if you look at social first you'll see a wonderful world of social. Our truly creative and result-driven social media marketing strategies speak for themselves. Having xx years of experience in the digital marketing space, Tapio Digital is a leading social media marketing agency in Bangalore. Our social media marketing experts are ready and willing to help your brand in any way. They will identify trends and challenges around topics of interest to your brand and build a comprehensive social media marketing strategy to help brands reach customers, establish brand value, expand an online presence, and generate revenue for their social media business.
We are a Social-Obsessed and Truly Creative Social Media Marketing Agency.
Social Media Marketing is all about "humanizing your brand" on social media channels. Social media marketing is the only way that will help you to build a strong relationship and connection with people, in a personal way. You should take full advantage of each social media platform to connect with your target audience and communicate with them via social media advertising, digital marketing campaigns, influencer marketing, content marketing, and many more.
As an experienced Bangalore social media marketing agency, we've got you covered. We understand and are well-updated with all the social media marketing trends and updates. Our social media experts create effective social media campaigns and communities that allow brands to stand out on popular social media platforms.
As an award-winning social media marketing agency in Bangalore, we're experts in producing impressive content for your social media platform and creating an actionable social strategy to get your brand to stay on top of the competitors and to be followed by the right people at the right time.
Analytical Thinking
Our digital marketing experts visualize, analyze and understand what is happening in your current social media marketing strategy, and based on that analysis they deploy an effective s marketing strategy, and create engaging content for your social media platform. This in return leads to an increase in social media presence, creates brand awareness over social media platforms, and maximizes return on investment.
Strategic Thinking
Our expertise in defining clear objectives and maintaining a consistent presence across multiple platforms and social media channels. Whatever your business type or whatever it is that you want to promote, we have developed our strategic approach to meet the client's business goals and increase sales with engaging content across social media channels.
Analytical Thinking
As a top social media marketing company in Bangalore, we ensure to build the strong personality of your brand using creative and innovative strategies that are built around anticipating the intent of your target audience. With a strong creative foundation, we deliver clear and tangible results that will improve your social presence and increase brand awareness.
Because we build creative digital marketing strategies using the above three pillars, we are known to be one of the top most result-driven social media marketing companies based in Bangalore. So, whether you need to build a strong social presence or an engaging social community, then don't look for any other social media marketing agency other than Tapio Digital. That's why hundreds of brands choose us and make us a popular social media marketing company.
We Highly Optimized Social Media Marketing Campaigns
Besides maintaining social media marketing presence for your brand, we are also specialized in implementing social media campaigns that are fully tested to deliver the best possible results in a short period. We are a bespoke Bangalore social media marketing agency in Bangalore that will work closely with you to build interactive and engaging social media marketing strategies that will influence your customers purchasing decisions and generates huge results on popular social media sites.

Content Management
We know how social media works and how well it can be useful for your brand. Being the goal-oriented social media agency, TapioDigital's creative content marketing team will work with you to curate original, appealing, and eye-catchy storytelling content that can easily resonate with your target audience and generates the best engagement and social media interactions. Our creative content team monitors your performance and manages your content to make it look interactive and influential.
Reach to Right Audience
We know social so our holistic and honest marketing approach is a perfect way to get a better picture of your target audience, what they want, and what they expect from your business. This result will help you to generate leads, reach out to potential social media users, raise your digital presence overall social media profiles, increase engagement on social media, and builds a strong customer base. Our Social Media Marketing services also cover implementing distinct social media campaigns for newcomers. These campaigns are built based on your objective and the type of audience you want to reach for social media management. By focusing more on organic followers, we keep content enhancement as our number one priority. We'll research, plan, curate, analyze, and report, you don't have to do anything when Tapio Digital's social media marketing services in Bangalore are there for you.

Page Optimization
Almost most agencies do not make effort for social media optimization. But this is the most critical part of social media marketing. In order to target an audience, one must optimize the brand's image or social media profile. We at Tapio Digital, one of the best social media agency in Bangalore, aim to make your brand a prominent placeholder in the social media world, no matter what the niche is. Our social media marketing team will monitor and analyze your business pages before implementing relevant standards and practices to run the best social media campaign.
Competitor Analysis
You need to start with social media competitive analysis if you want to stay ahead of everyone else. Our highly skilled professional team of social media marketing at TapioDigital performs regular social media competitor analysis for your brand to identify its strengths and weaknesses. Once our team is able to analyze your social media page, they will start building marketing strategies for the brand's social media growth.
We don't just create a presence but build strong connections through social media marketing services.
No matter whether your goal is to increase brand reputation or generate sales over social media platforms, Tapio DIGITAL got your back. Being one of the popular social media marketing company in Bangalore, we can help you by providing the best digital marketing services that will make your brand famous on all social platforms and generate leads from your social media business.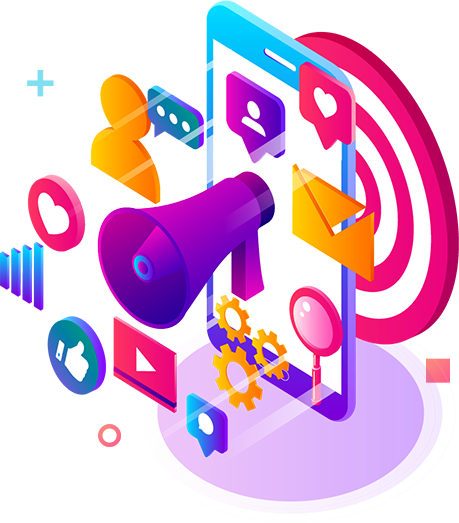 Facebook Marketing
Propel your brand to new heights with our bespoke Facebook marketing services. Our team of Facebook specialists will handle everything for you – from creating top-notch content to setting up data-led ad campaigns.
Linkedin Marketing
Starting advertising on B2B social media marketing platform like Linkedin might be tough and challenging for you, but Tapio Digital has an in-house team of social media experts that will manage and improve existing Linkedin campaigns to ensure that the campaigns are well-optimized to drive sales for your business.

YouTube Marketing
Let us help you grow your brand with YouTube advertising. From content to production and promotion, we will help your brand grow, capture the screens of customers, and drive traffic to your website.
Influencer Marketing
Tapio Digital is a Bangalore-based influencer marketing agency specializing in developing engaging influencer marketing campaigns to make lasting impressions on the target audience.